Back pain is one of the most common and most costly conditions that affects nearly 65 million Americans today. Patients who suffer from chronic back pain can be severely limited in their ability to perform everyday activities such as work, family life, and activities they enjoy.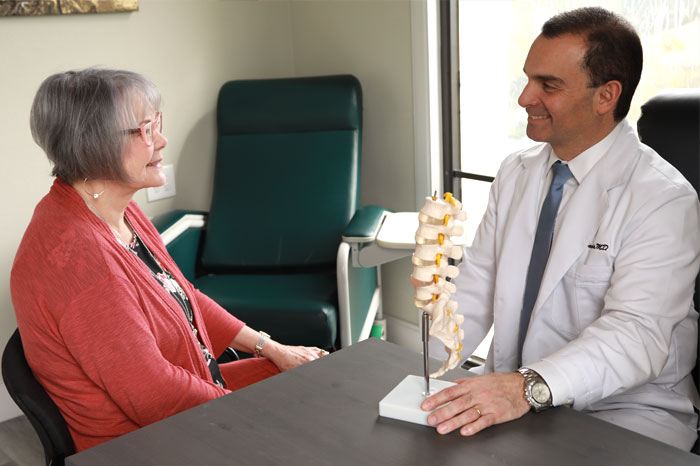 Aspire's Minimally
Invasive Procedures
The Future of Treating Back Pain
The model of treating back pain is changing – and Aspire Pain Relief Institute is at the forefront of that changing tide.
Minimally Invasive Spine Medicine is a new frontier of specialized care and has become increasingly less invasive as opposed to spine surgeries in the past.
Rather than treating patients solely based on MRI images, our physicians undergo an extensive physical and neurological examination of the patient to determine the "pain generator," which is where the true source of the pain originates from.
Only after identifying the pain generator as the underlying cause of chronic pain, can the patient undergo an effective pain treatment plan to help relieve their chronic pain. We work to establish a unique program that helps our patients get relief from chronic pain, and back to the activities they love.
We treat a number of spinal conditions that cause chronic pain including:
Osteoarthritis
Sciatica
Low Back Pain
Neck Pain
Middle Back Pain
Scoliosis
Degenerative Conditions
Spinal Trauma
Spinal Fractures
Spinal Cord Injuries
Aspire To Be Pain Free – Contact Us Today!
Aspire To Be Pain Free
Contact Us Today!

Aspire's Minimally Invasive Procedures for Treating Chronic Spine Pain
Our physicians practice at a new level of ethical and medical excellence, providing effective, minimally invasive services such as:
Nerve Blocks
Radiofrequency Ablation
Minimally Invasive Lumbar Decompression (MILD Procedure)
True back pain specialists are hard to find. This has created a gap in healthcare where primary physicians are left to treat these conditions but lack the extensive training in the specialized area of pain medicine. But not at Aspire Pain Relief Institute – our board-certified physicians are highly experienced in the specialized arena of minimally invasive spine procedures and dedicate their utmost to patient care to provide favorable outcomes as opposed to surgical procedures and medication management.
We truly understand pain and dedicate ourselves to providing treatments that give our patients hope for a pain-free future.
The Complete Approach to Pain Management
Chronic back pain doesn't limit its damaging effects to the spine alone. With chronic pain comes a host of other complications that can arise when a person has spent years suffering from unrelenting pain. As a result, our physicians deeply believe in treating the whole person. We provide adjunct care plans to maximize pain relief including physical and/or psychological therapy sessions as well as rehabilitation programs.
No One Should Live With Chronic Back Pain
And You Don't Have To Face It Alone.
Contact The Physicians At Aspire Pain Relief Institute Today.
No One Should Live With Chronic Back Pain And You Don't Have To Face It Alone.
Contact The Physicians At Aspire Pain Relief Institute Today.